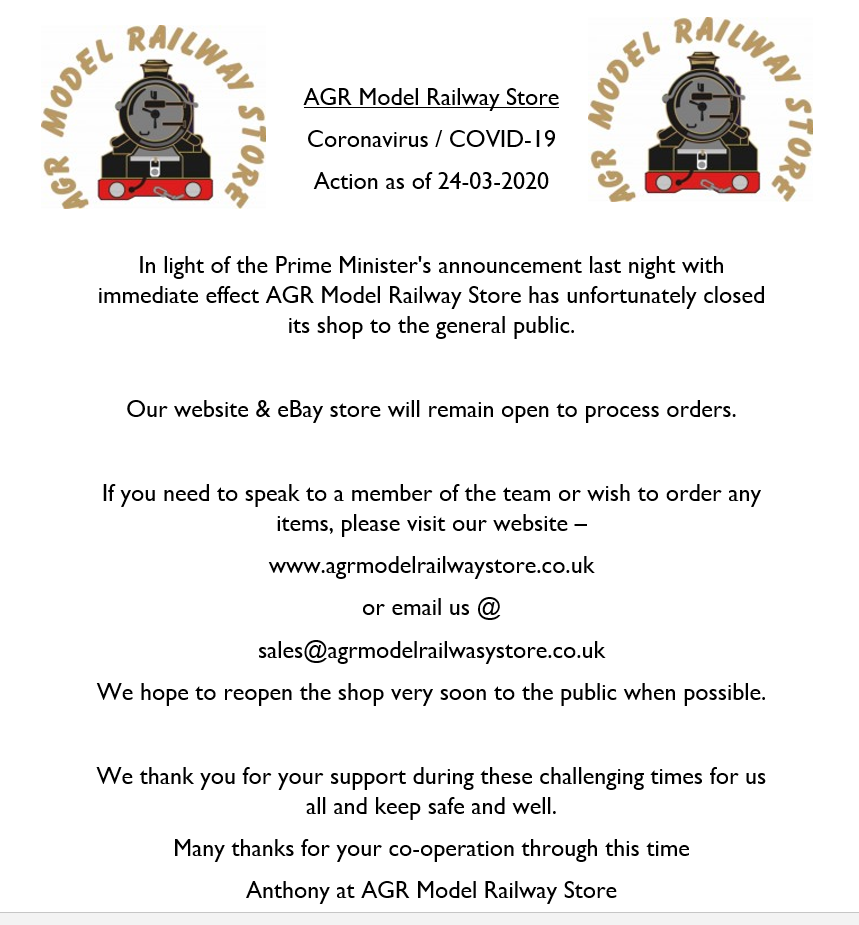 Morning everyone, The AGR team watched in delight as the PM addressed the whole country last night and announced the opening of retail stores from the 15th of June. We just wanted to clarify our position with regards to reopening to the public.
At present AGR is on course to open its door on the 16th of June with new opening times for the store – further details to follow – this is of course pending any new guidelines made by the Government.
We are now working hard to put new guidelines in place to keep us and yourselves safe while visiting the store.
We are expecting more details once the new measures have gone through Parliament later this week but for now, for the safety of our customers, our staff and their families, there is no change here at AGR Model Railway Store until the 16th of June.
Our website is still open and we are picking, packing and shipping orders as quickly as we can. Please be patient with the situation but don't hesitate to get in touch if you do have a query and we'll respond as soon as we are able to.
- Anthony & The AGR Model Railway Store Team
Please contact us via these channels -
www.agrmodelrailwaystore.co.uk
or email us @
sales@agrmodelrailwasystore.co.uk
We thank you for your support during these challenging times for us all and keep safe and well.
Many thanks for your co-operation through this time
Anthony & The AGR Model Railway Store Team.
What Our Customers Think?
A well stocked shop with friendly staff. No pressure to buy. Covers all major scales and manufacturers as far as I can tell.
- Paul Moylan -
This store is exactly what it says in the name, a place that doesn't exist in all towns. but has the a following for all enthusiasts and helpful staff.
- Barry Marks -
If only there were more model shops like this! It's a family run store that has an extensive range of both OO & N gauge, and also some O gauge, covering locos, DMUs, rolling stock, track.
- Dave M -
Excellent model railway shop. Very helpful and a great selection of stock
- Jim Adams -